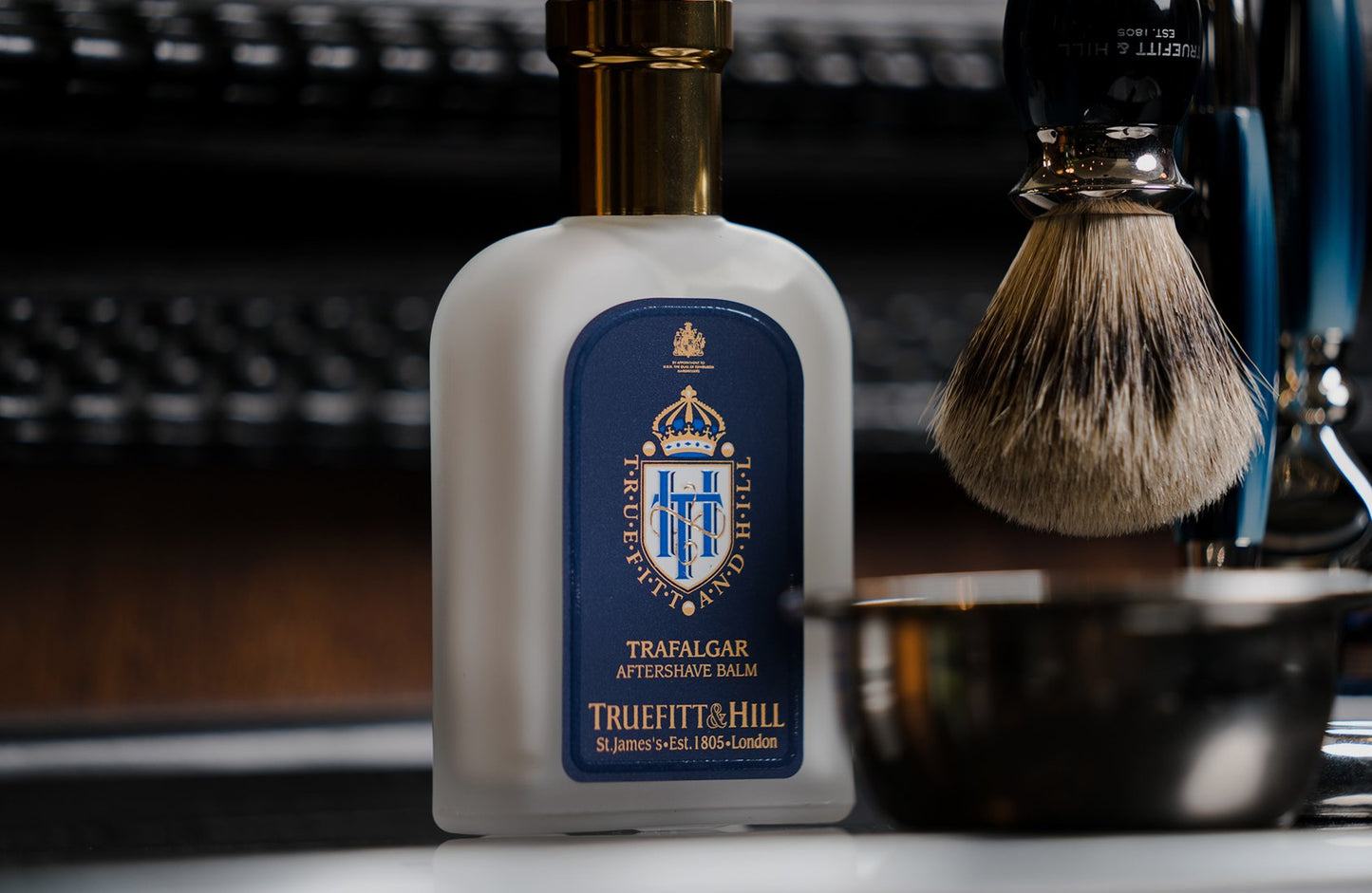 In Praise of (Aftershave) Balms
There are many parts to a superior shave. Preparing your stubble with Truefitt and Hill's
pre-shave oil
softens the stubble facilitating a smoother shave. The use of a quality shaving cream or soap adds to the lubrication which in turn, provides an exceptionally smooth blade/razor experience. But, once the excess facial hair has been removed, the job is not quite over yet.
Shaving can take its toll on the skin. And while a fine moisturiser will always assist with care, protection and nourishment, the immediate application of a specially formulated shaving balm leaves a soothing coating of luxurious nourishment and a feel-good effect for the rest of the day.
While a balm offers the right balance of moisturising properties to offset the strain of shaving, Truefitt and Hill's product line perfectly matches its range of superlative fragrances. Whilst both shaving soaps and creams are relatively lightly scented leaving a subtle olfactory scent, the use of a complementary balm seals in an added layer of fragrance.
It is no secret within the global shaving community that Truefitt and Hill are constantly praised for having amongst the finest scents within their shaving product range. From the bergamot, mandarin and cardamom of the superlative
1805
to the recently released
Apsley
characterised by cedar-wood and patchouli, the balms extend the glorious fragrances in just the right projection.
It is certainly true that shaving products should not produce a fragrance that is in any way overpowering. After all, the mark of a Gentleman is subtlety of attire and also subtlety of aroma used. This is where Truefitt and Hill's balms come into their own. Not only do they make your face supple and invigorated with just the right amount of lanolin and aloe vera, they support the soaps and creams in adding a layer – albeit understated – of fragrance.
Matching your shaving product with the same fragrance balm is therefore a natural extension of the shaving experience. It is all perfectly balanced to allow the user to have a 'whiff' of the delectable
Trafalgar
or
Sandalwood
, yet also wear any additional cologne should they choose.
Of course, the perfect end to the shaving regimen – should the Gentleman wish it – is to match all the initial shaving products with a matching cologne. And, Truefitt and Hill have that covered too. Imagine the glorious synergy of fragrance across all these products. They will provide you with the smoothest of shaves and the suppleness of skin all within the family of fragrances. Round it off with a splash of matching cologne and you will feel groomed to perfection.
With Truefitt and Hill, you are guaranteed that every step of the shaving experience offers not only a superlative skin experience – but one in which your olfactory senses will share in the delight. Try any balm that matches your shaving product and enhance your shaving experience. You will feel complete thereafter.