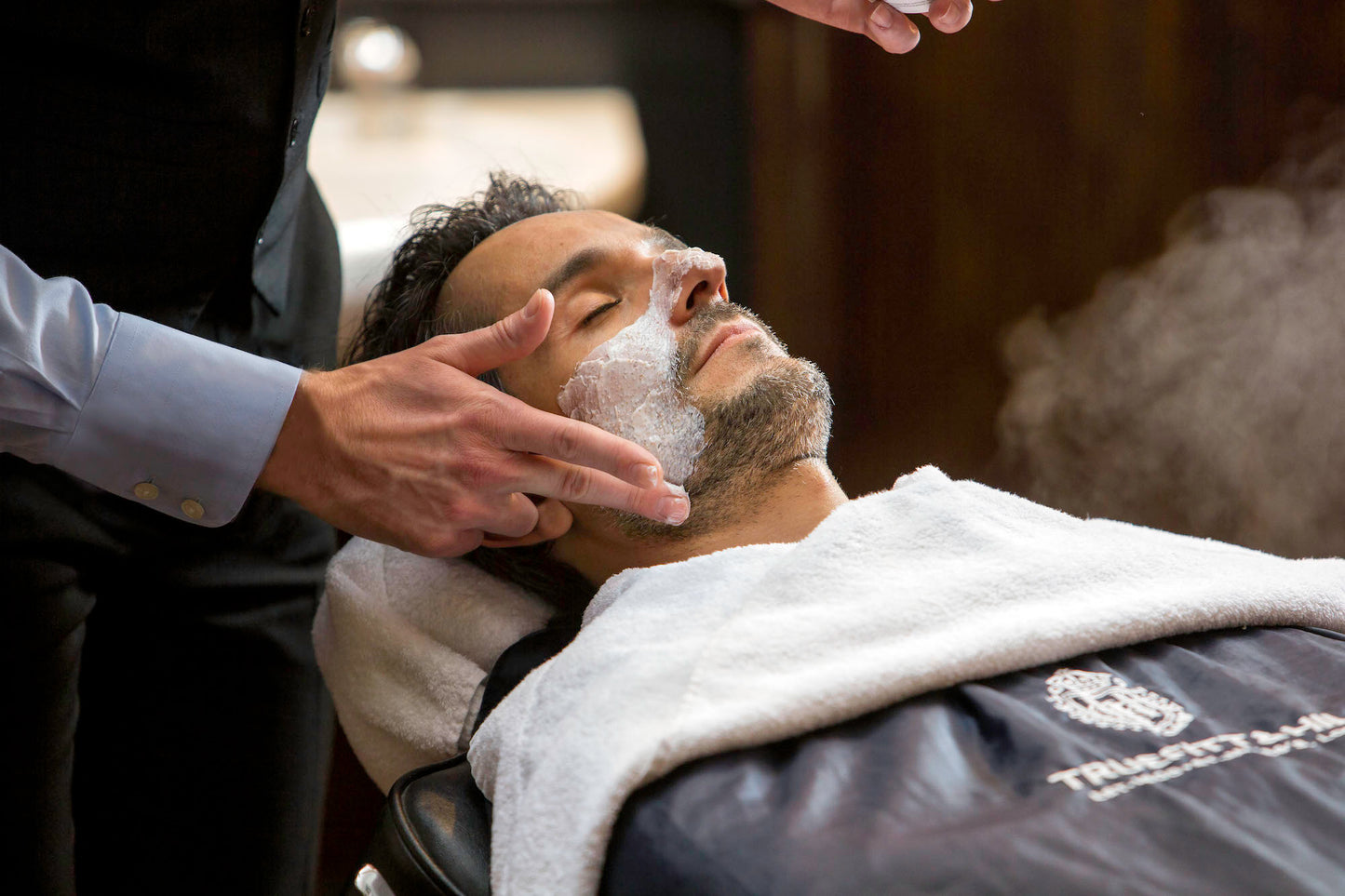 Why Facial Treatments Are Also A Must For Men
Some years ago, on the 26th May 1981, an article appeared in the New York Times excitedly announcing that 'MEN ARE DISCOVERING THE FACIAL'. Nevertheless a curious stigma attached to the idea of men enjoying facial treatments has lingered for years and it wasn't in fact, until the zeitgeist created the term 'metrosexual' to describe a man who enjoys taking time over his grooming regime, that the concept of male grooming took on a new meaning.
Which, bearing in mind that historically the world of men's grooming has for centuries focused on the needs of a man's face, one may find strange. Take the traditions of the barbershop wet shave, for example - the thorough preparation of the skin, the artful lathering of shaving cream, the absolute precision of a razor stroke - all of which required time, dedication and skill. It was entirely natural for a man to stop at his barbers and luxuriate in being tended to in the chair, perhaps with a whisky to hand and the day's papers. It is therefore somewhat surprising, that this meticulous approach to shaving has taken so long to eventually branch into other areas of men's grooming. However it is reassuring to note that today facial treatments for men are now de rigour.
There are pronounced biological and functional differences between the male and female skin and although men have thicker skin with larger pores, in fact, 25% rougher than women's thanks to the effects of testosterone, male skin is actually more susceptible to environmental damage and tends to be drier than female. It also appears that the male dermal layer is more sensitive to ultraviolet radiation, all of which strongly indicate that a man's skin is actually more in need of attendance and that facial treatments, which target those specifics, can benefit him immensely.
It is also worth remembering that a facial treatment isn't just about the end result; it is also very much about relaxation and enjoying the process. There are scarce few moments in a man's working day when he prioritises himself and takes time out to be looked after. A facial treatment is a rare opportunity to do just that, all the better if it is conducted in the gentlemanly environs of our St James's Street emporium.
At Truefitt & Hill, our experience in the world of men's grooming stretches back 215 years, proving that we are well versed in what the contemporary man needs and expects from the barbershop's chair. And so, we know that one of our most coveted services is the Deluxe Facial Treatment, a luxurious one hour experience that combines a carefully balanced treatment calibrated to cleanse and exfoliate the skin, extract comedones, hydrate and tighten the pores. The application of hot towels as well as a moisture mask, combined with an expertly performed facial massage will further improve the skin's tone and promote a feeling of overall relaxation.  
For the dynamic man-on-the-go, we have fine-tuned the process to offer a similar experience but within 30 minutes. Our signature Facial Treatment employs a condensed version of the above, offering a unique opportunity of taking care of your skincare needs in between meetings and arriving back in the office looking considerably refreshed.
Alternatively, we also offer a Face Massage experience, designed to rejuvenate the skin while relaxing your facial muscles which, what may surprise you, we use more than any other muscle in the body. The process is undertaken by one of our Master Barbers who employs special massage techniques to reduce puffiness and fluid retention, while promoting lymphatic drainage and allowing the skincare products to penetrate deeper and maximise the treatment benefits.
Of course, it is often difficult to commit the time to visit in person on a regular basis, which is why our range of products is designed to offer an effective skin care routine from the comfort of your own bathroom in between facial treatment appointments.
An effective skin care routine should always start with cleansing, especially as the larger pores mean the male skin can become susceptible to comedones, more commonly known as blackheads. Here we offer a choice of gentle, yet deeply cleansing exfoliants, such as our Skin Control Daily Facial Cleanser or our Authentic No.10 Cleansing Scrub which is created to clear the pores, alleviate breakouts and stimulate skin cell renewal.
It is also essential to remember that male skin needs extra hydration, therefore everyday application of our Advanced Facial Moisturiser will help to invigorate the skin and infuse it with so much needed moisture. This unique formula also contains defence against UV damage and combines essential oils with powerful plant derived extracts, such as allantoin, known for its ability to stimulate cell renewal and to act as a healing balm.
Alternatively, our Authentic No.10 Sensitive Moisturiser marries natural ingredients such as willow bark, vitamin E and borage seed oil with powerful Tego Pep 4-17, which will aid in boosting collagen production to increase skin elasticity, smoothen the skin surface and visibly minimise the appearance of wrinkles.
However you decide to freshen up your look, looking after your skin should be one of the most important aspects of your grooming regimen and it will pay handsome dividends in ensuring that, with a little help from our experts who know exactly how, you will always be able to put your best face forward.