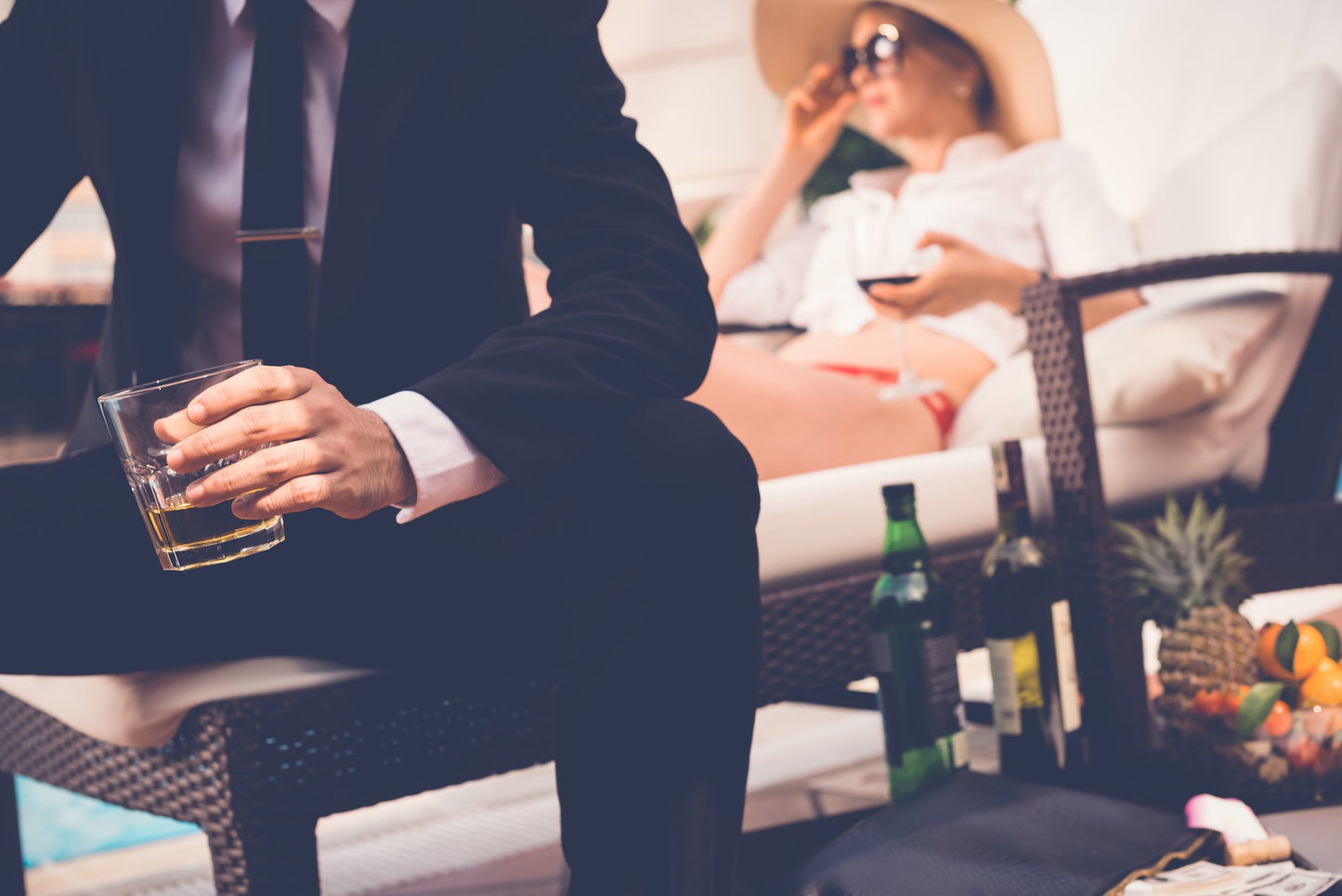 Top Tips To Stay Well Groomed This Summer
If we are to believe the weather forecasters, Britain is set to bask in long, hot summer of sunny weather and high temperatures. With this in mind Truefitt & Hill has just the right products to maintain your grooming regime to stay fresh and bright even on the warmest of days.
Picking up colour is the only thing you will want to do this summer. Whether you are punting on the river or merely a spectator at Henley Royal Regatta this summer, Truefitt & Hill has the right tools for you and some hot tips handy for any discerning gentleman to keep cool this season.
ROYAL ASCOT
Wearing the correct form at Royal Ascot is one thing and, if you happen to be updating your wardrobe for the season, one would suggest a nod to your Savile Row tailor for a wool-blend morning suit. Being well groomed for the highlight of the racing calendar is another.
To retain one's composure amidst the midday heat, a tip from our barbers would be to avoid any lotions that are not oil-free and use dressings such as Truefitt & Hill's Tonic Lotion Special (£24.00) - a traditional hair tonic with a light refreshing fragrance of lavender, clove and citrus which is designed to promote superior control and manageability for all types of hair.
Opt for a clean, neutral roll-on deodorant which has both natural ingredients and a cutting-edge formulation, such as our Ultimate Comfort Gentleman's Deodorant (£15.00) - an indispensable item for the modern gentleman on the go. Carefully designed to be aluminium and paraben free, it utilises a series of naturally occurring processes to effectively eliminate body odour and has become a mainstay in the daily care routine of any gentleman.
Gentlemen's Deodorant
Partner with a soft 'summer fresh' cologne, such as 1805 (£57.00) - this fragrance was originally derived from a formulation known as the 'Palmerston Bouquet' which dated back to the late 1850s. Fresh and oceanic, 1805 has top notes of bergamot, mandarin and cardamom, combined with a lavender, geranium and clary sage heart resting on a sandalwood, cedarwood and musk base. Spray-on and enjoy. 
Paired perfectly with your summer skin care routine is our Advanced Facial Moisturiser (£27.00) formulated to create a moisture barrier, which helps to protect against dehydration and premature skin ageing. It also contains a sun filter which offers some protection against UV damage, lavender oil and allantoin to soothe and promote the healing of the skin, as well as Vitamin E and panthenol to help slow the effects of ageing.
To put yourself in line with the in side win and to avoid the slow runners, one would suggest a quick visit to one of Truefitt & Hill's esteemed barbers for a preen and polish before setting off for the races. Best bet off the starting block would be a clean sweep of the hair off your neck; not only does this give a quick first impression but will instantly give you comfort in the blazing summer sun.
Advanced Facial Moisturiser
Also dress wise, one need not be too slavishly to the rules. It is not absolutely necessary to wear a silver grey tie; yours could be a subtle stripe or perhaps a dark ruby silk matching your dark red carnation. Another modern twist could be a fine navy and white check shirt rather than white, though one would suggest to retain the white stiff collar and cuffs.

Outside the Royal or any other enclosure; opt for a dark London 'lounge suit' with an open weave fabric; a high twist wool, fresco, linen, or cotton. Go with a bowler hat. Such fashion quirks will without doubt elevate your well groomed head and shoulders above the rest.
HENLEY ROYAL REGATTA
One of the highlights of the sporting calendar has to be the Royal Henley Regatta; originated in the 1860s, it quickly became the event to see and to be seen attending. Over the years the ethos hasn't changed that much, even if gentleman's attire has, slightly.
Though styles might have changed over the past 150 or so years, Henley is still the place to sport one's favourite stripped blazer as well as a crisp pair of wool-linen blend trousers (White is of course preferable, Beige is more common now-a-days, Navy is a good colour as it looks more relaxed than Black) and a straw boater. It is a look, which though slightly tweaked, has stood the test of time.
How to stay poised and fresh in the midday sun whilst those around you wilt might take a little more than cold thoughts of Siberia. However, help is at hand with a range of daily moisturisers and cleansers from Truefitt & Hill to keep you as fresh as a daisy.
Truefitt & Hill Daily Facial Cleanser (£19.00) is the perfect product to use before going to bed and again, in the morning, post shower, to remove any traces of night-time sleep. Team with Truefitt & Hill Intensive Skin Renewal Booster, best applied to the face using finger tips and a tapping action.
Intensive Skin Renewal Booster
Truefitt & Hill's Invigorating Bath and Shower Gel (£25.00) offers a great reason to get out of bed in the morning. Scented with an exceptionally refreshing rosemary-mint fragrance, its stimulating after effects of the jojoba beads is guaranteed to freshen-up your pre-Henley morning routine. Combined with Vitamin E that works to rehydrate the skin, this product will ensure that you are well-watered through the day's events!
Complete the look with Truefitt & Hill's Freshman Cologne (£57.00) a firm favourite amongst the fashion-conscious undergraduates of prestigious universities such as Oxford and Cambridge. This subtle and refreshing fragrance has top notes of lemon, bergamot, rosemary, mint and orange blossom surrounding a heart of clary sage, lily of the valley, jasmin and ylang-ylang which comfortably rest on base notes of musk and oakmoss.