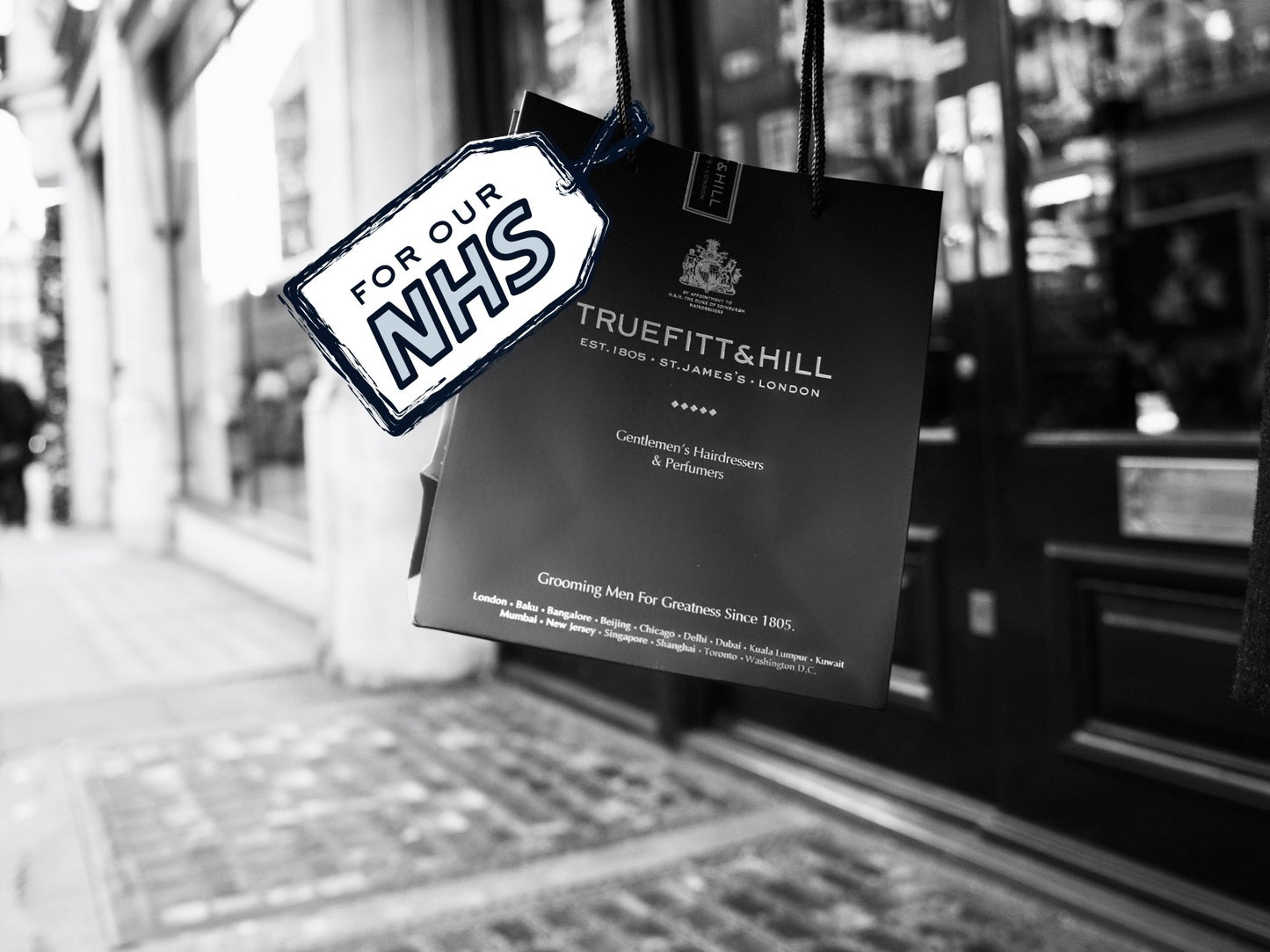 Supporting NHS With A Donation Of Shaving Equipment To Help With PPE Mask Safety
In a bid to do what we can to help with the ongoing coronavirus crisis in the UK and the enormous challenges faced by our NHS in its fight against the pandemic, Truefitt & Hill are proud to offer their support and have donated over 1,500 shaving products to frontline staff. Like the rest of the nation, we have been awestruck and humbled by the brave work of NHS doctors and nurses in their selfless service. And with concerns on the difficulty caused by beards and facial hair in the effective application of the crucial PPE masks that are required to protect medical workers, we have offered a range of our razors, shaving creams and aftershave balms, to St George's Hospital in London.
The world has watched as UK tailors and shirt makers have given over their factories to make scrubs, British fashion designers have pivoted their production processes to make masks and catering companies have delivered food supplies to keep nurses and doctors nourished. It's a network of care for the people caring for us, and putting their lives and that of their families at risk, that we are honoured to contribute to. This crisis, while a monumental challenge, has brought out the very best of British.
"Determined to make a contribution and cognisant of the fact that PPE masks do not provide adequate protection when worn over beards, Truefitt & Hill is donating over 1,500 shaving creams, razors and aftershave balms to the NHS staff", says the historic house's Director Joanna Broughton. "We hope that our products will make the task of shaving that little bit more enjoyable and provide a brief moment of respite in their gruelling and harrowing schedules".
"The landscape of our lives and the familiar patterns of our everyday activities have changed irrevocably since the first case of coronavirus was diagnosed. With these changes, many of us pause to think and reflect on what is really important. Many find that our priorities and values have changed.
Today, more than ever, we must recognise the role that the NHS staff, scientists and frontline workers play in ensuring that our future, not only as a nation but as a global community, are pivotal to what we have so often taken for granted in the past - health, happiness, togetherness and prosperity", says Broughton.
The range of products, which includes 500 disposable razors, 500 tubes of Ultimate Comfort Shaving Cream, 500 Ultimate Comfort Moisturisers and 100 Ultimate Comfort Balms, is part of a national effort to support the precious institution that is our NHS.
While our history proudly notes that, during the WWII Blitz of London, we remained open - redirecting clients to a nearby store after our flagship almost took a direct hit - in this moment we are firmly closed. Our staff are safe at home, and our clients know we will be waiting for them when they return in need of a haircut and shave.
"Not only should we be humbled by the bravery of those who dedicate themselves to our care, but we should do all we can to support them and express our gratitude for their selfless dedication", says Broughton. "Please let's remember that along with recognising and applauding the heroism of the NHS and all frontline workers, the best way to support them is to stay at home".