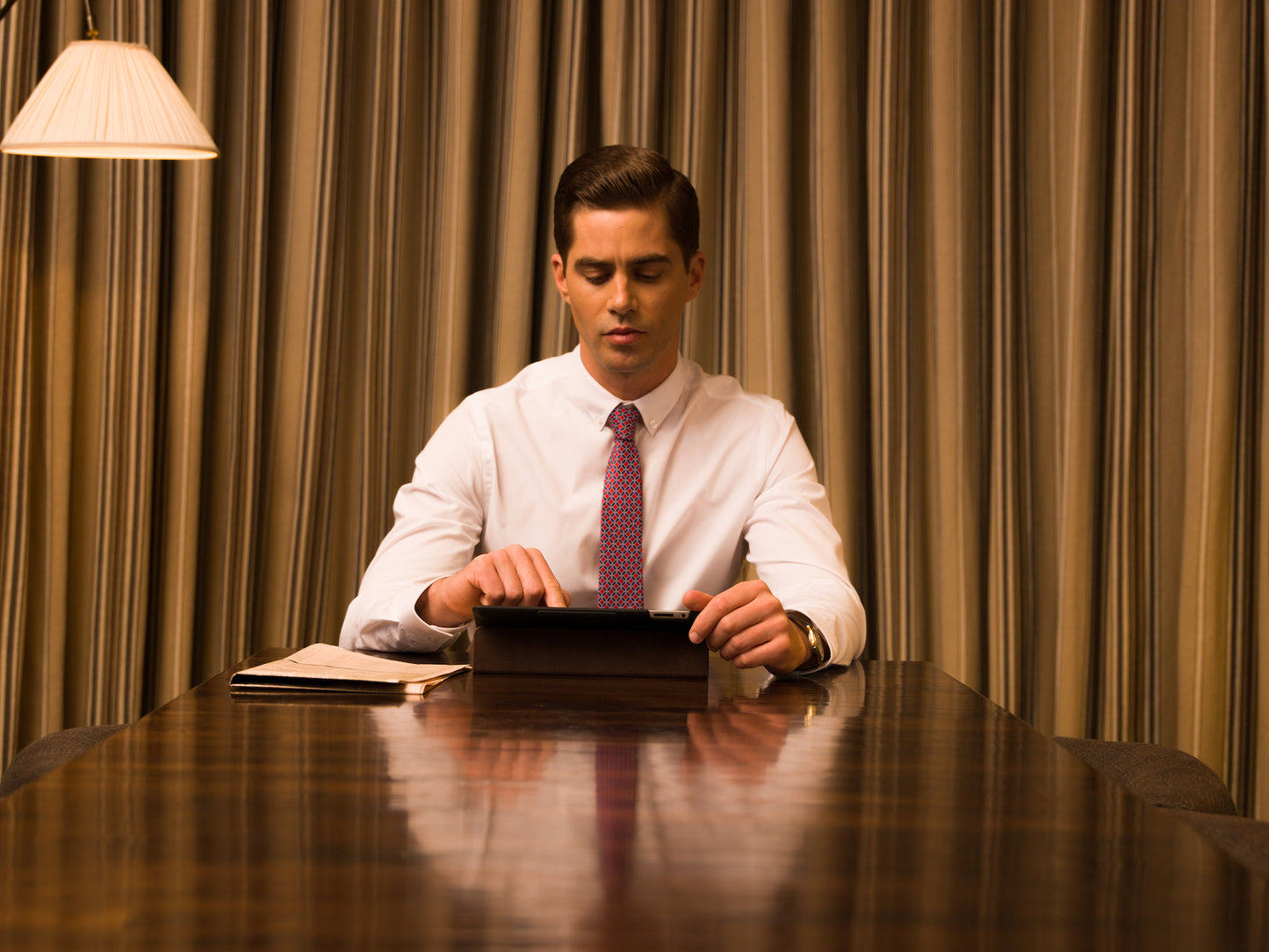 Gentleman's Grooming Guide To Looking Professional In Online Meetings
Mastering the etiquette of a business meeting is a skill, one which we hone over time as we traverse our professional lives. Certain rules might see you in good stead; arriving early, being thoroughly prepared, or following a specific dress code. But in the age of COVID-19 lockdowns, in-person meetings have been replaced by virtual video calls, and the etiquette around them has hit the headlines. A judge in Florida, for example, lambasted some lawyers who appeared in T-shirts or, worse, shirtless before him in digital form.

As the UK moves into its 7th week of lockdown, the virtual meeting has become the norm, but it's important not to become laissez-faire. Attention must be paid to how you present yourself and your surroundings, even as we grow weary of our new normal. Here, Truefitt & Hill offer a practical guide to looking your professional best on screen. 

Put your best face forward

Healthy skin is every man's starting point, but the current circumstances are making that difficult. There are concerns that lockdown is causing the risk of vitamin D deficiency, which can lead to skin looking pale and sallow. Likewise, the general angst and uncertainty are leading to sleepless nights for many, which result in dark circles under the eyes. Video calling lends another element to meetings; you can suddenly see yourself. You are more aware of how you look, so ensuring that you look your very best and feel confident in your presentation as you lead the discussion or chair a meeting, is vitally important.

Cleansing and moisturising is a basic 2 step gentleman's skincare regimen that should be practiced twice daily, whether you are going into the office or working from home. To lend the appearance of a restful night, even if you have been tossing and turning, start with our zesty Daily Facial Cleanser - lime and grapefruit notes will freshen you up and the jojoba beads will exfoliate dead skin. Then move on to our Advanced Facial Moisturiser which will protect your skin against dehydration and premature skin aging. To elevate your skincare regime use our Authentic No. 10 Cleansing Scrub 2-3 times a week to clean the pores and leave you with a radiant, healthy looking complexion.
Dress appropriately 
Good video conference etiquette extends to your attire. If in doubt, opt for a collar at all times - your upper half is emphasised so things like collars and chest pockets are more in focus. It might feel like dress down Friday, but steer clear of T-shirts and opt for a polo shirt instead, which is a smarter alternative. Think about your hands when you gesture, or hold a pen - our Large Manicure Set will help you keep things neat and smart - and be wary of covering your mouth or fidgeting with your face. It will detract from what you are trying to communicate. 
The hair care conundrum 
It's national news that men are cutting their own hair, or taking up the clippers, as the option of visiting regular barbershops remains, for now, unavailable. This means that portraying a polished image is even more essential. Your hair might be overgrown, but style it in such a way that shows you are as professional and sharp as you ever were; our Master Barber David Olds recommends sweeping hair up and away from the face. For this, try our Circassian Cream. Its light and easy to apply formulation won't weigh your hair down but will provide you with a natural finish. For a firmer hold, if your hair is truly unwieldy at the moment, try our Brillantine Pomade - it commands the hair in a firmer fashion. There are also reports that hair washing has increased, as people have more time to spend on their daily routine. Take advantage of the extra minutes not spent commuting in the morning by employing our restorative Moisturising Vitamin E Shampoo. We can use all the extra care we can get at the moment, and Truefitt & Hill are on hand to help.