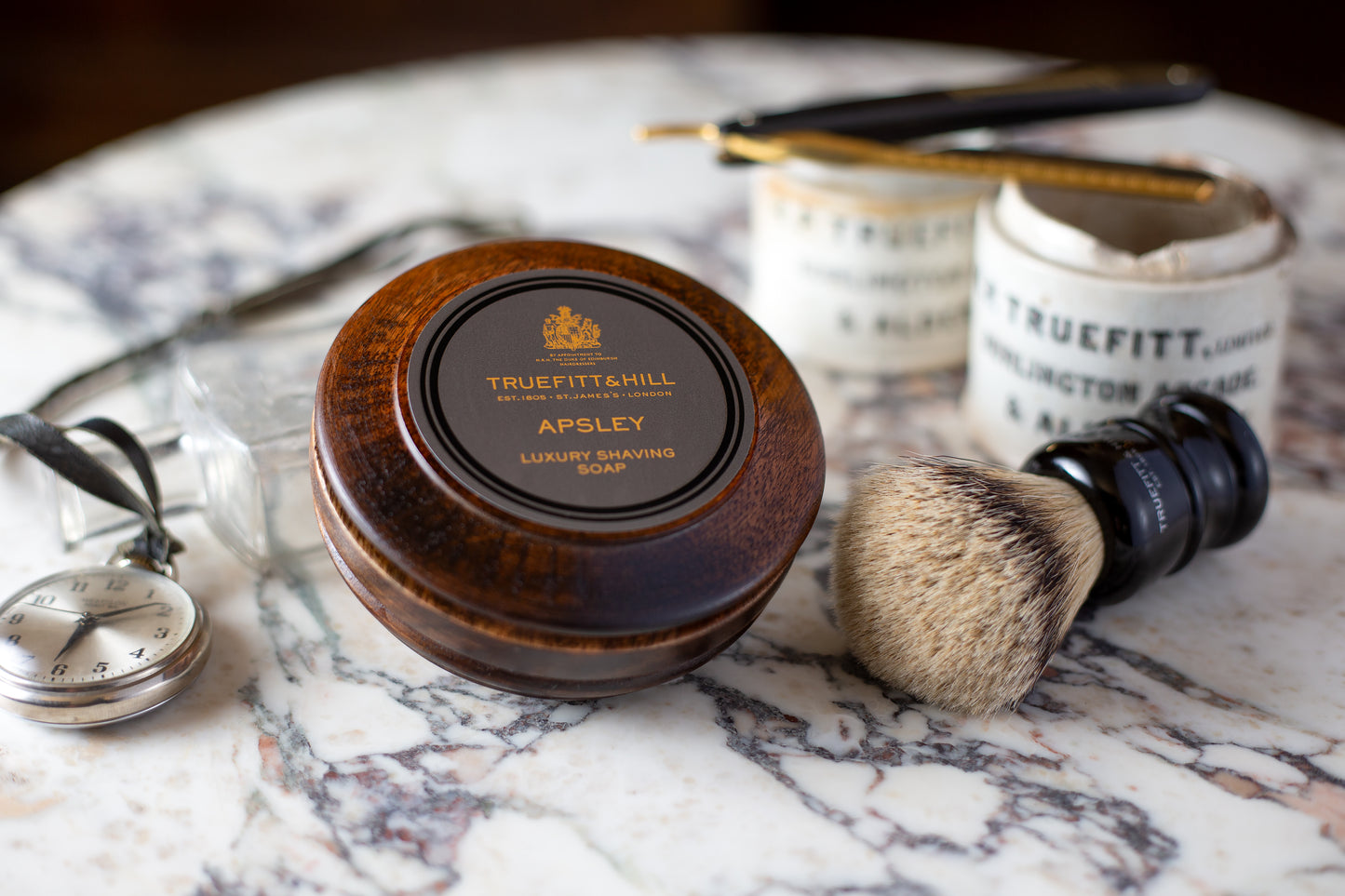 Shaving Cream or Shaving Soap - Which One To Choose?
To many, shaving is an unavoidable chore, but with some practice and patience it can become a daily contemplative ritual, a chance to tend to your skin, commune with your reflection, and slowly put together a well-groomed and maintained façade for the day ahead.
The rituals of wet shaving demand that you make a number of choices, which may be dictated by experience or by a respectful nod towards tradition. You will need to select a good quality multi-blade or a double-edged safety razor, which will give you a closer shave. Cut-throat razors provide the closest shave of all, but wielding them is a skill best left to professional barbers.
Whatever razor, brush, cream or soap you select, the basic steps remain the same. Shave your skin after a bath or shower, when the pores have opened; application of an oil, such as Truefitt & Hill's Pre-Shave Oil, will also help any razor to glide more easily across the skin, giving a closer and more comfortable shave. Once you have lathered your skin, shave with the hair, not against it. Rinse off your face with cold water to close the pores and pat dry, then apply an after-shave balm, such as Truefitt & Hill's classic Aftershave Balm. Rounding off with a moisturiser will ensure that your skin feels pampered and renewed.
This entire process, which will soon become an unconscious habit, requires one further decision: shaving cream or shaving soap? Cream, which today is sold in a tube or a tub, is a comparatively recent development as until the early 20th century only bars or sticks of hard shaving soaps were used. Although shaving cream can be applied straight to the face, a more thorough job will be done using a brush to lather up the cream and, when the right consistency is reached, convey it from tub to face, where it should be spread with a circular motion, pushing the hair grain in the opposite direction to which it lays. This process is facilitated when cream comes in its own bowl, such as the Trafalgar Shaving Cream Bowl.
Cream is lighter than soap, and it is therefore easier to create a workable lather. For this reason, it is an excellent choice for men who are only just entering this very masculine world, or making the transition from dry shaving. It is also more moisturising, and therefore more suitable for men with sensitive or dry skin; Truefitt & Hill's unscented Ultimate Comfort Shaving Cream, which is enriched with lavender essential oil, is highly recommended for sensitive skins.
Shaving soap is a much more traditional option. The shaver will have to work much harder to create lather from a more obdurate block of soap, and will certainly never achieve the visually satisfying frothiness of cream, although he may find the soap is satisfyingly long-lasting, with thicker and more luxurious lather, once the correct lathering technique is mastered. Nevertheless, soap works in exactly the same way as cream, with the proviso that it may be more suited to men who do not have dry or sensitive skin.
The appeal of a traditional product, such as Truefitt & Hill's Sandalwood Luxury Shaving Soap in a wooden bowl, clearly lies in its old school connotations; for many men, standing at the basin, working the brush into the shaving soap, releasing a familiar scent, will remind them of their grandfathers and fathers, and will connect them to generations of men who have gone before them, adding an element of nostalgia to the shaving ritual. They may also enjoy the slower, more reflective nature of the shave, which will allow them a moment of calm rumination before the day begins.
While shaving cream is the faster, more dynamic modern cousin, ideal for men who want to streamline their shaving routine and achieve great results as quickly and efficiently as possible, using the shaving soap offers rich rewards to men who devote time and effort in mastering their lathering techniques.
Whether you choose shaving cream or soap, you have a range of options and scents to consider, and you can ensure that your cream and balm are matching so that you present a coherent scent profile to the world. Truefitt & Hill provides a number of scent 'families', such as Apsley, Trafalgar, Sandalwood, West Indian Limes, Grafton and 1805, which will allow you to complement your shaving products with your cologne. Or you can choose unscented shaving products, such as the Ultimate Comfort range, and then rely on a cologne for your fragrance impact.
Whatever your choice, the most important aspect of any shave is to learn to enjoy it!