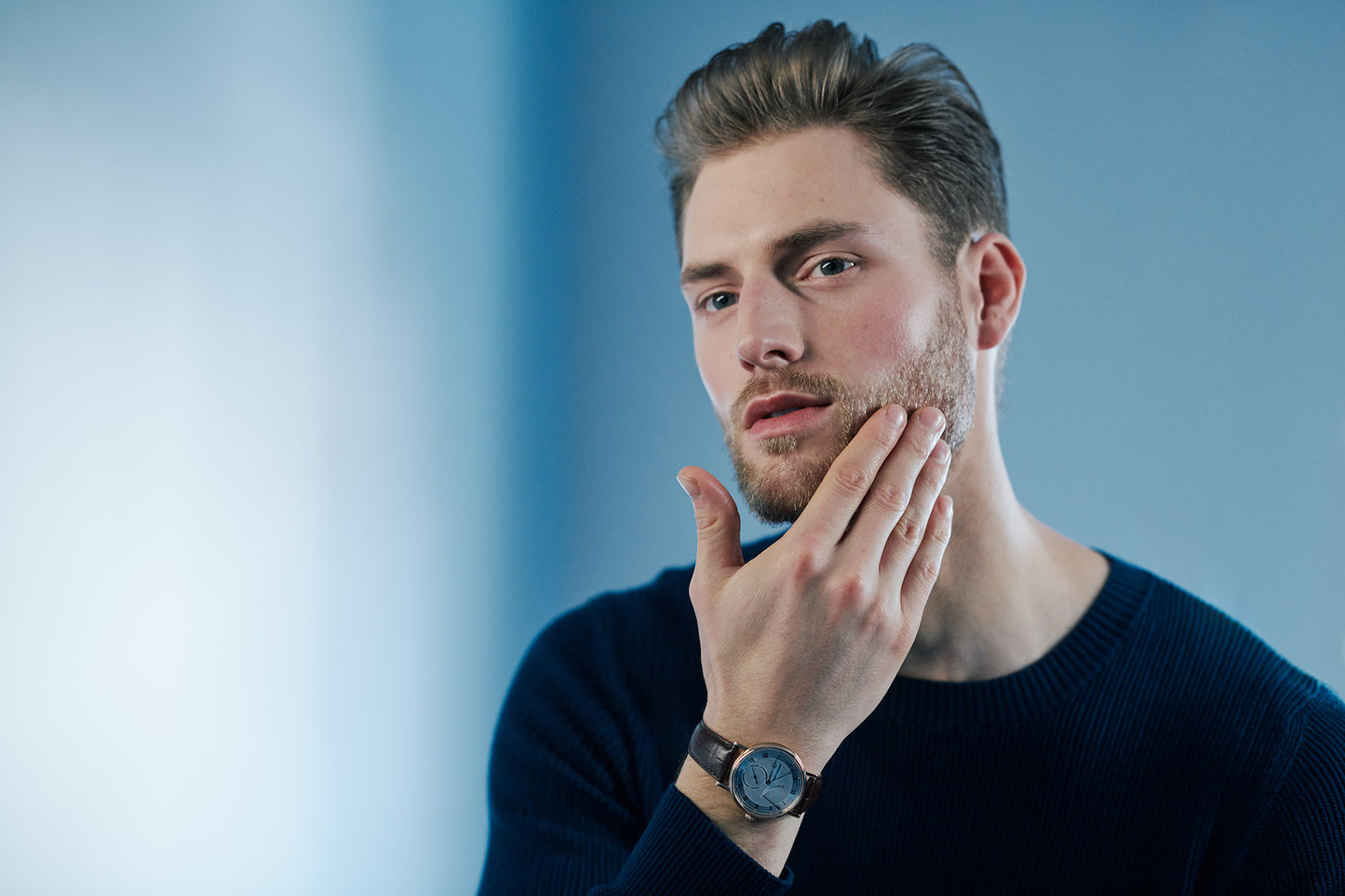 How To Maintain The Perfect Stubble
The secret to the well maintained stubble is to strike a perfect balance of rugged, yet sophisticated look. It will then project masculinity, without slipping into the 'wild man' territory of the bushier beard, and will look acceptable even in conventional workspaces.
But beware – stubble is not simply the effect you achieve when you eschew shaving for a few days. Stubble requires regular maintenance, so in order to sport this look with confidence and flair, a number of steps must be followed.
Firstly, you will need to invest in an electric beard trimmer. A trimmer will have adjustable guards that will allow you to maintain your stubble at exactly the right length – ideally, between 3–4.5mm. Hair clippers can be used as well, but only for areas with longer hair as they do not cut so closely; they are especially useful for clearing away any overgrowth of beard to make way for the final trimmer cut and refinements.
Once you have your tools at hand, prepare your skin in the same way as you would for shaving, preferably by having a hot shower first, or by applying a hot towel or flannel to open up the pores. The next step is to exfoliate the skin to clear out any ingrown hairs. Truefitt & Hill's Daily Facial Cleanser will not only deeply cleanse but also gently exfoliate the skin leaving clearer, smoother and even complexion.

Now is the time to wield the trimmer. Unlike a razor, trimmers can be used against the grain of the hair, but be careful not to put too much pressure on the skin – let the trimmer do the work. If it is not cutting well, oil the blades or consider replacing it with a new device.
Many men have stronger growth of thicker, darker hair on the chin and moustache area, so you may want to go a little shorter on these more hirsute regions than on the cheeks, where hair normally grows more sparsely. The main aim is to use the trimmer to define the shape of your stubble on the cheeks and neck area and to ensure that neck hair and chest hair are visibly separated.
The next step is to apply a shaving gel, such as Truefitt & Hill's No 10 Sensitive Shave Gel, and massage it into your cheeks and neck. You should now use a razor to define the lines of your stubble on your cheeks in a line that runs at a 45 degrees angle beneath the cheekbones. On the neck area shave in a semicircle from just above the Adam's apple and then rinse your face to get rid of loose hairs.

Once you have finished this procedure it is a good idea to treat your skin with a hydrating moisturiser such as Truefitt & Hill's No. 10 Sensitive Moisturiser, or you can use Truefitt & Hill's Ultimate Comfort Aftershave Balm, especially formulated to soothe and calm the skin after shaving. You may also want to apply a beard balm, such as our Gentleman's Beard Balm, which thanks to its waxy texture, will perfectly smooth any erratic stubble that refuses to lie in a uniform direction. Alcohol-free moisturisers and beard balms will also help to keep any discomfort, itchiness and dry skin at bay. Depending on your beard growth, you will need to maintain this routine every two to four days to create the elusive natural, but well maintained balance. 

Sporting a neat stubble is certainly not an easy option, so you will need to make an informed decision whether the look is optimal for you before investing in its upkeep. Another very important aspect to consider is your hair growth - if your beard growth is somewhat uneven, this is not the right look for you. While stubble will add a distinguished definition to the jawline and may well endow you with gravitas and masculinity, it works best with strong oval or square faces, however it will not give chiselled features to plump or jowly shaped faces and is therefore best avoided. 
While your well maintained stubble will make you look stylish, nonconformist and sophisticated, and will not require adherence to a diurnal shaving routine, do not be fooled – maintaining a 'natural' look and ensuring that you do not look unkempt and dishevelled is quite an art.