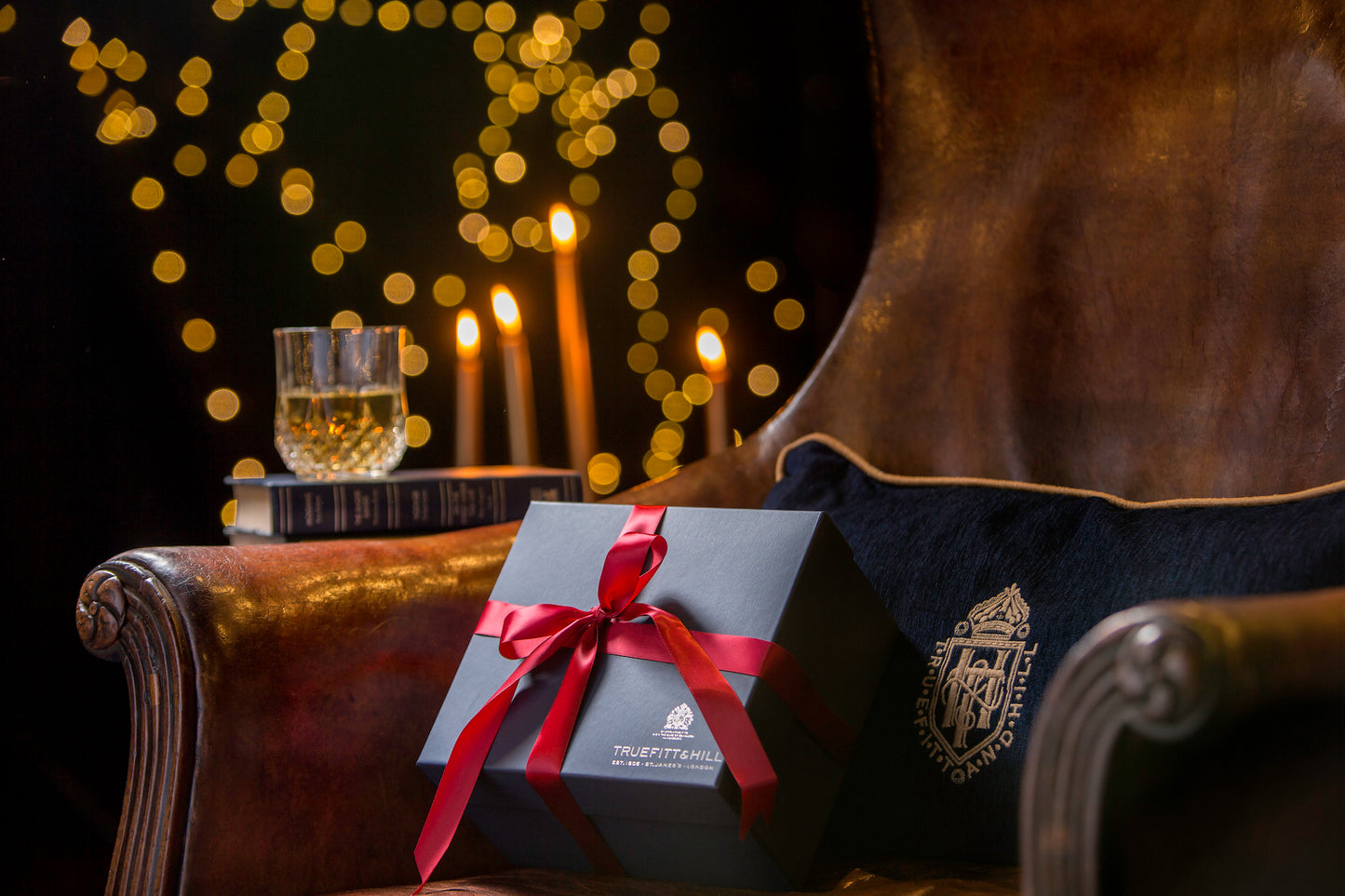 Christmas Gift Guide of Luxury Indulgence
If this year has taught us anything, it is to cherish our nearest and dearest. And as we lead up to Christmas, that sentiment is very likely to reflect in our choice of gifts. We all know too well that the process of buying presents for men tends to be a tricky endeavour, which all too often results in a standard pair of socks under the tree on Christmas morning. It might be difficult to get it right each and every year, but focusing on the items that are unique, beautifully crafted and useful is always an informed approach. 
The gentlemanly environs of St James's have long been a hub of sartorial excellence. Thanks to the proliferation of gentleman's clubs in the 17th century, and proximity to the royal palaces, St. James's became an epicentre of all forms of finery, from the smartest accessories to epicurean delights. Which is why its historic establishments, of which Truefitt & Hill is one, have always catered to the world's connoisseurs and sybarites.  
A stone's throw from our St James's emporium sits Lock & Co. Hatters, established in 1676 and peerless in its craft of exceptional hats. When looking for a gift, opt for a pristine fedora, handmade by artisans in its sprawling townhouse, or for the more casual, outdoorsy look, consider choosing one of wool beanie hats in cheering coral or primrose. Since Lock & Co. Hatters have kept some of the greatest heads in history well covered and adorned, you can rest assured that the person you are shopping for will be in a good company. Coincidentally, it was Lock & Co who crafted Lord Nelson's famous bicorne hat, the very one he wore as he headed into the Battle of Trafalgar, on the very day that William Francis Truefitt opened the doors to his barbershop in London's Long Acre. 
Close to Lock & Co. is the family run Berry Bros. & Rudd, again a brand rich in history. Founded in 1698, it began its life as a coffee shop, then a hub of commercial life and something of a novelty, a place for businessman to meet and stockbrokers to ply their trade, while sipping cups of coffee, which had only recently been brought to these shores from Arabia. 
Berry Bros. & Rudd originally evolved as a purveyor of tea, spices and dried goods, however in 1903 created a ginger liqueur for Edward VII to keep him warm on chilly car trips. It was such a success that during the 20th century it expanded on its offerings and became more specialised in fine wines; today the company boasts an impressive collection of 5,000 wines and spirits. Take advice from one of its in-store sommeliers and indulge the oenophile in your life with a precious bottle of Brunello di Montalcino, a most suitable choice for a festive toast to raise at Christmas lunch. 
For a gentleman with a refined palate, pair the gift with a box of decadent champagne truffles from a historic chocolatier Charbonnel et Walker. Their beautifully decorative boxes have been arriving at the royal palaces since 1875; in fact, it was Edward VII who introduced the two founders! With such impeccable linage, Charbonnel et Walker's chocolates have since became firm favourites and are much sought out after-dinner indulgences.
That sense of rarity is also part of Turnbull & Asser, situated on nearby Jermyn St and established in 1885, its exceptionally crafted shirts and dressing gowns have outfitted everyone from Winston Churchill to James Bond. During World War I the brand also created a technically-advanced raincoat for the military, an innovative and clever design which could double as a sleeping bag. Each Turbull & Asser shirt is handmade at a factory in Gloucester and consists of 33 parts, so there is no doubt that this classic iteration in the brand's trademark Sea Island Cotton is a timeless wardrobe failsafe that any gentleman will be able to wear now and for many years to come.
While 2020 might have been eerily bereft of the usual events that normally make up the calendar, let's hope that 2021 will be very different, which is why a diary is an excellent gift that any gentleman should not be without. Opt for classic, superior quality designs, as these are guaranteed to satisfy anyone's taste. Debrett's, an undisputed authority on British style, social events, manners and famed for their etiquette guides, is a great place to start. The company offers a wide range of classic, leather bound, beautifully embossed diaries that will not only help a gentleman to stay organised but will also provide the essential information on season's events, dates and the appropriate dress code. Visit www.debretts.com and use T&H10 code to receive 10% discount on all 2021 diaries (valid until 18th of December). 
Last, but most certainly not least, let's not forget of the most difficult person to shop for – a gentleman who has it all… May we suggest here a gift of a grooming? A perennially informed option, as not only there are the benefits of the process itself – a deep relaxation and feeling of wellbeing, but of course it also enforces a defined amount of time that is reserved just for him. Men are famously neglectful in this regard, which is what makes Truefitt & Hill's Ultimate Grooming Experience such an exceptional gift.
Expertly looked after by one of our Master Barbers in the handsome environs of our flagship store, the 90 minute treatment, consisting of a shampoo and a haircut, traditional hot towel wet shave, manicure and a relaxing facial treatment, is designed to leave a gentleman refreshed and revitalised, not only looking polished but able to put his best face forward into 2021.