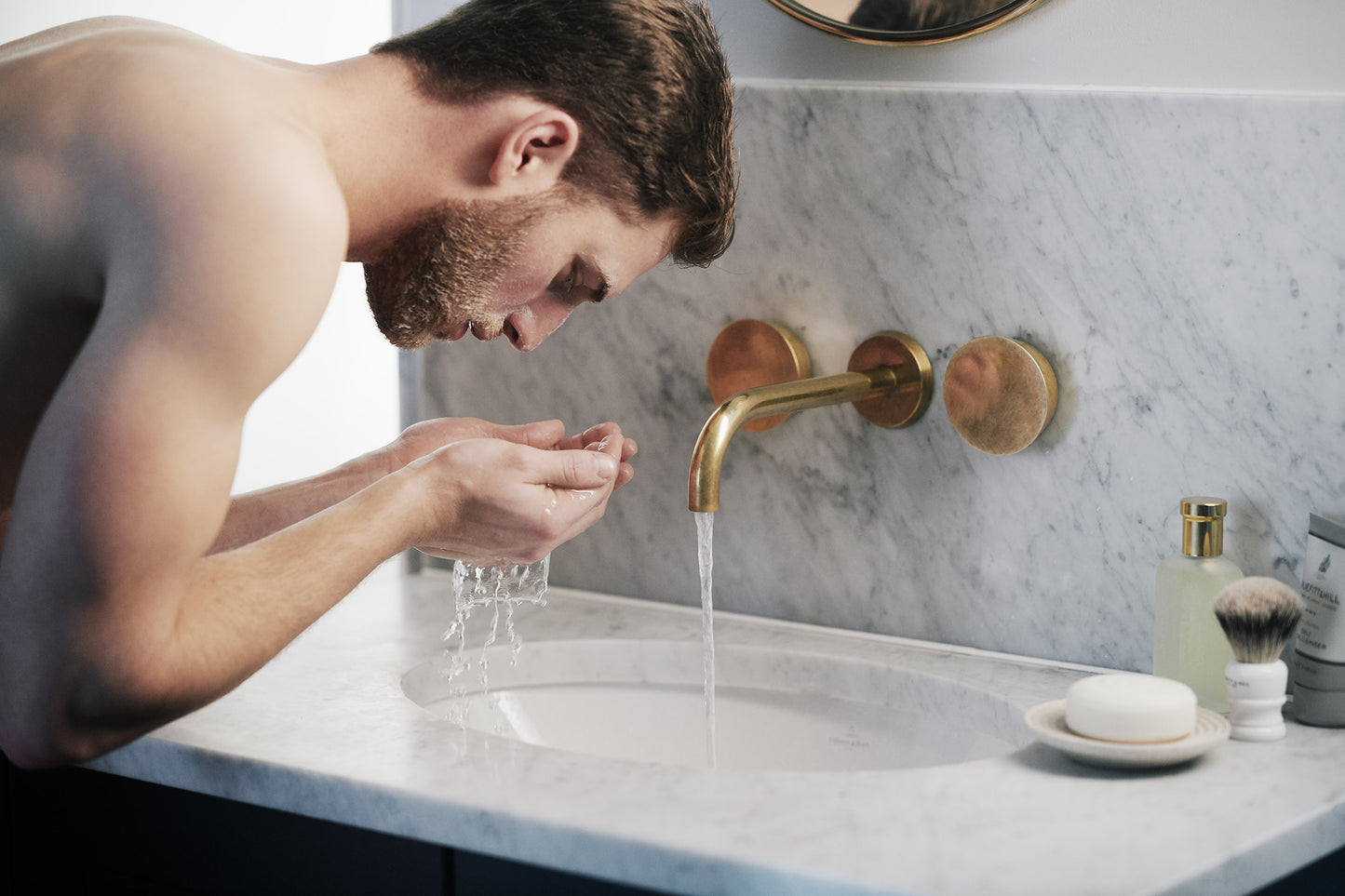 A Complete Guide To Winter Skincare
The nights have darkened, the weather sharpened and our skin is feeling the effects. Winter is truly upon us. Social media platforms are filled up with the images of frosty mornings, snowy fields and rosy cheeks, and alongside the extra heft required in our wardrobes, our skin needs the same kind of protection. Because, while it is drilled in since childhood that the colder months call for a serious coat, good solid shoes and warming accessories to keep us fighting fit, most men can be curiously lax in applying that same vigilance to their skincare routines. We would never dream of stepping out in searing temperatures without safeguarding our skin first, but we forget to apply the same stringent measures when the Fahrenheit plummets. As a result, irritation, redness and cracked, dry lips feature as some of the less attractive side effects of the winter season. So the time to act is right now and we are pleased to provide some invaluable advice as to the best way to fine tune your grooming routine to achieve the best results and to take proper care of your skin in winter. 
 
Now is the time to hydrate
The months might be damper and wetter than the heat of summer, but your skin needs hydration now more than ever. That is because we are spending more time indoors, without as much fresh air, and our skin tends to dry out due to the effects of a number of factors, such as, for example, the use of central heating in our homes. The sudden change in temperature as we go about our daily life stepping in and out doors, can dry skin, so a robust moisturiser will help negate this, and create a soothing moisture barrier across your skin - our Advanced Facial Moisturiser, which contains Vitamin E and lavender oil and is expertly formulated to calm and heal the skin, will do just that. This advanced formula creates a moisture barrier which helps to protect against dehydration and premature skin ageing.
It is also worth to remember that it is not just about what you put on your face, but how you take care of your body too. Studies have shown that we feel 40% less thirsty in winter as we are not subjected to the beating heat of summer. However, our hydration needs do not fluctuate throughout the year. Therefore it is important to drink enough water, general, medical advice estimates that we should adhere to the '8x8' rule; drinking at least an 8 ounce glass of water eight times a day. And if you are tempted with the barrage of winter 'speciality' coffees, please keep in mind that dermatologists recommend indulging in these in moderation – the excessive amount of coffee and tea can dehydrate your body as well as your already thirsty skin.
 
What is more, caffeine stimulates cortisol levels, the hormone that increases stress, and alongside the adverse mental effects of this, stress accelerates production of corticotropin, which increases oil production and can lead to breakouts, resulting in having to deal with spots and dry skin at the same time. There is no doubt that the cold, dark winter mornings might call for a strong large coffee to start the day, but be conscious of how much of it you are drinking. 
Battle flaky skin
Aside from sapping the moisture out of our skin, fluctuating temperatures can cause skin to peel and even give rise to more serious problems like eczema. A combination of brisk outside air, comforting hot baths or steaming showers, as well as changes to indoor heating can cause excessive dryness which may result in skin shedding the outer layers. To avoid that, firstly, rid your skin of dead cells by using an exfoliant two to three times a week. Our Authentic no. 10 Cleansing Scrub will gently exfoliate your skin and help to stimulate skin cell renewal. It is also enriched with willow bark and borage oil which are known to protect against all kinds of skin inflammation including eczema, dermatitis and rosacea. If your skin is lacking hydration to the point where it is peeling, opt for an effective but gentle moisturiser - our Authentic No.10 Sensitive Moisturiser is formulated to treat the skin kindly and provide 24-hour hydration with a non-greasy, matt finish. It is also advisable to use warm, rather than hot, bath or shower water, no matter how chilly your walk has been, because excessively hot water will strip your skin of natural oils and dry it out.
Many of us tend to forget that the winter conditions not only take a toll on our face, but also on the skin below our chin, making it so important to use a good quality soap, which will not dry it out. Our Ultimate Comfort Luxury Soap is carefully formulated with the finest organic olive and coconut oils to moisturise and soften your skin, while the infusion of citrus and Earl Grey tea lends a sophisticated olfactory element – a perfect combination not only to care for your skin, but also to offer a touch of comfort and luxury.
Don't overlook SPF
This is where a touch of science comes in. It might seem farcical to protect your skin against sun damage in the gloom of winter, but there are two kinds of harmful rays. UVB is the variety you notice on your summer holiday as it causes immediate redness and burning. UVA, however does not cause redness, but it reaches deeper into the layers of the skin and causes long term damage, accelerating the ageing process.  UVA rays do not dissipate even in the weak winter sun, so make sure you add an SPF to your routine even on the darkest of days. 
 
Combat lockdown fatigue 
There is no doubt that the effects of lockdown are difficult for many of us to manage, which results with having to cope with the effects of not getting good nights' rest.  Waking up feeling less than fresh, will lead over time to dull, sallow skin - the Ghost of Christmas Past staring back at you in the bathroom mirror. Start the day (after not too many sips of strong coffee) with a Daily Facial Cleanser to clear the clogged pores and dead skin of the night before. This cream based formula is not only deeply cleansing but also moisturising thanks to grape, lavender and sunflower essential oils that hydrate, soften and boost the skin. This product will prep up your visage, inject some brightness and help dissipate any ruddy redness caused by cold weather.
Shave with caution
 
Preparation is paramount when it comes to shaving. No matter how much care you take during the shaving process, if you have not laid the correct groundwork, you run the risk of irritation and nicks. The first step is to ensure that your skin is softened by warm shower or by applying a hot towel which will open the pores and soften the hairs. Whipping up your lather to a meringue like consistency and using a brush to apply it in a circular motion, will ensure that each individual hair is coated. Shave in the direction the hair flows to allow a smooth, even glide of the razor and once shaven apply a cold towel to seal the pores. And finally, we must reiterate how important it is to remember how exposed and raw your freshly shaven jawline can feel when venturing into icy climes. Add a layer of protection by applying our Ultimate Comfort Aftershave Balm to act as a moisture barrier between you and Mr Jack Frost.
No matter how harsh the weather might be this year, by following a good grooming routine, your skin will be suitably set to tackle even the lowest temperatures of winter months and enable you to enjoy the undoubted beauty of snow covered landscapes, no matter how inconvenient they actually may prove to be!