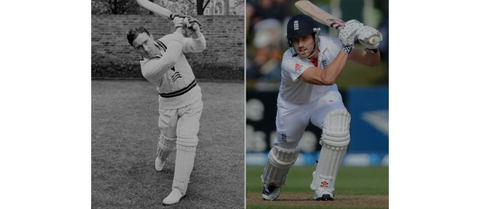 The Compton's - A Well Groomed Sporting Dynasty
England cricket player and all-round gentleman Nick Compton was drawn to book his first appointment with Truefitt & Hill as he followed in the footsteps of his grandfather, legendary sportsman Denis Compton. As grooming traditions often are passed down from generation to generation (see our
Father's Day experience
event), Denis, who would have been a centurion this month, was labelled one of the most dashing England openers of all time and frequented our barbershop often for a pre-match trim.  
The Compton's knocked the appeal of cricket out of the ground to way beyond the village green and into a whole new stratosphere – not solely due to the sporting prowess of the legendary Denis and Grandson Nick either, when it came to looks, both Truefitt & Hill regulars (Denis favoured our West Indian Limes fragrance) oozed male sophistication.
DENIS
As sporting dynasties go, few have achieved the same respect as the Compton cricketing clan. Asked during post-WWII Britain who was the most dashing of the country's sports-star, its hero, pin-up and sometimes bad-boy, chances are the Nation would say raven-haired English test cricketer, right-handed batsman and Arsenal football ace Denis Compton.
A FAMILY THING
Denis Compton lives in the minds of all who saw him, and of many who did not, as the cavalier of cricket. With equally chiselled good looks and capable talent, Denis' debonair grandson, Middlesex and England cricketer Nick Compton has achieved much that would have made his grandfather proud. Compton embraced sport almost from the moment he took his first baby steps. Sport was in his blood and Nick Compton, like his grandfather before him, turned TV presenter and pundit, journalist and model – Nick however can also add photographer to his accolades. Nick Compton continues to realise greatness but ask what's most dear to him and family is top of his list.
Nick Compton with Hollywood actor Paul Blackstone, Dockers Flannels for Heroes, charity cricket day in June 2015. (Photo: Austin Mutti-Mewse).
HERO & HEARTHROB
At his zenith as Britain moved away from austerity, over four summers and two overseas tours (Australia and South Africa), Denis Compton scored 14,641 runs and made 60 centuries, all the while looking handsome - his rugged sun-kissed skin, and dark, shiny cut locks juxtaposed against his crisp whites sent fans wild - hero-worshiped, boys wanted him as their father, in-turn fathers wanted to look like him and play like him, their swooning wives wanted to marry him. He was appointed a CBE in 1958, had a stand at Lord's named after him and was onetime President of Middlesex County Cricket Club. Denis Compton's fame was akin to football stars of today.
LEGACY
Fame is perhaps less important to Nick Compton. In November 2011, Nick spent a week coaching the team at the aptly named Compton Cricket Club in downtown Los Angeles, California. The team's mission is to curb the negative effects of gang activities amongst the youth of Compton, South Central Los Angeles through teaching the principles and ethics of cricket: male camaraderie, sportsmanship and team spirit.
FURTHER READING ON NICK COMPTON
In his early teens, Nick won a scholarship to Harrow where he developed his cricketing skills under the tutelage of former Leicestershire opener Tim Boon. A right-handed top order batsman and occasional right-handed off spin bowler, Nick made his A-List debut for Middlesex in 2001, with his first-class debut three years later. He played in England's U19 World Cup side in Australia early in 2002. Later that year, Nick made his U19 Test match debut against India and made his maiden one-day half-century with an 86 not out against Lancashire.
"I would dearly love the boys to go out there like playboys, play off the back foot and enjoy the game" Denis Compton (1918-1997)
Nick's breakthrough came in 2006, when he gained a regular place in the senior side. He scored six centuries, including a career best 190 against Durham. He topped the Middlesex averages scoring 1,315 runs at 46.96. Second only to Mark Ramprakash in terms of first-class centuries scored, Nick was selected for England A's winter tour to Bangladesh where he headed the averages and was named player of the tour along with Matt Prior.
The 2012 season started well, with Nick scoring 236 against Cardiff MCCU. Later that year he signed with Somerset, his partnership of 450 with fellow player James Hildreth was a new first-class record for Somerset. Nick's good form continued with a second double-century against Nottinghamshire, where he amassed a total of 685 runs, earning him a place with the England Lions for the tour match against the West Indies.
Nick's continued success on the field and his weight of runs was enough to earn him a first call-up to the England Test squad for the winter tour to India in 2012. He made his Test debut in the first match against India in Ahmedabad. He successfully made nine and 37, sharing in a first-wicket, second partnership of 123 with Alastair Cook.
His success on the field lead to a place in England's Test squad for the tour to New Zealand in March 2013. In the second innings of the first Test of the series, Nick earned his maiden Test century, scoring 117 as England drew the Test match. He finished as England's third highest run-scorer, with 232 runs at an average of 46.40.
Nick is also an ambassador for Frankwater, a Bristol based charity of ethical entrepreneurs, researchers and field workers that fund sustainable clean-water projects in developing countries across the world. In June 2015, Nick captained a celebrity cricket team for the annual Dockers Flannels for Heroes event. The brainchild of Hugh Grant, 'Flannels' raises funds and awareness for injured ex-serviceman for charities Combat Stress and Walking with the Wounded.
Tickets to our Father's Day Grooming Event can be purchased via the link and cost £175.