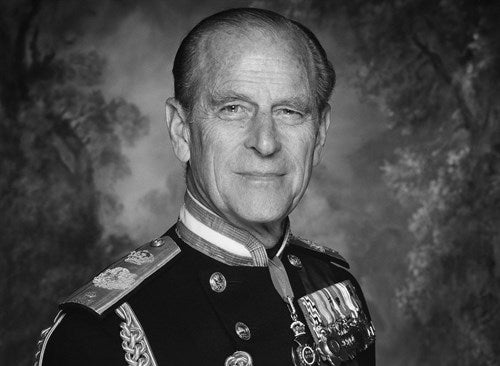 HRH Prince Philip, The Duke of Edinburgh, 10 June 1921 - 9 April 2021
HRH Prince Philip, the Duke of Edinburgh, died on 9 April, 2021, just two months and one day short of the momentous date of 10th June 2021, which would have marked his 100th birthday.
Independent minded and forthright, The Duke of Edinburgh gave over seven decades of loyal service to the Crown and enjoyed a long and happy marriage. He will be remembered for his resolute devotion to numerous charities and personal causes, as well as his tireless promotion of new ideas and innovations. A peripatetic and chaotic childhood, as well as a distinguished career as a British naval officer, moulded his fortitude and devotion to duty, laying solid foundations for the extraordinary life that lay ahead.
Philip Schleswig-Holstein-Sonderburg-Glücksburg was born on the Greek island of Corfu on 10 June 1921. His uncle, Constantine I, was the King of Greece and Philip was sixth in line to the Greek throne. Like his future wife, Elizabeth, he was the child of the younger son of a ruling monarch, but there the similarities ended. The Queen's family life was stable, happy and secure, while Philip's childhood was extremely turbulent. In 1922, following the Greco -Turkish War, his uncle, the Greek King, was charged with treason and forced to abdicate. Young Philip and his exiled family fled to Paris, where Philip's mother, Princess Alice of Battenberg, traumatised by the events surrounding the abdication, was consigned to a Swiss sanatorium following a nervous breakdown. Philip's four older sisters each married a German aristocrat and moved to Germany, leaving Philip to live with his father, who settled in the South of France to lead a lifestyle more suited to a bachelor and dominated by parties and travel. This meant that Philip was often looked after by various family members, friends and relations, which compounded the lack of security and stability and left an indelible mark on early years of Philip's childhood and adolescence. In Philip's own words: "The family broke up. My mother was ill, my sisters were married, my father was in the south of France. I just had to get on with it. You do. One does."
At the age of nine Philip was dispatched to the care of his mother's family in England, the Milford Havens and the Mountbattens, and subsequently was sent to Gordonstoun, an austere boarding school in Scotland. He took the school's motto fostering inner fortitude, 'Plus Est En Vous' ('there is more to you'), to heart, and it was this stance on life which was to serve him so well in overcoming many challenges of his long life. Philip thrived in a demanding atmosphere that encouraged enterprise and self-reliance. At the age of just 16, he was forced to confront another tragedy, that of his sister Cecile's death, who was killed with her husband and her two children in a plane crash. A few short months thereafter, his uncle, mentor and guardian, the second Marquess of Milford Haven, died suddenly of bone marrow cancer at the age of 45. These tragic events had a tremendous effect on young Philip and taught him a lifelong lesson of stoicism.
In 1939 Philip joined the Royal Navy as a midshipman and found his true vocation; he excelled in training at Dartmouth Naval College and passed out as a Sub-Lieutenant in 1940. It was at Dartmouth that Philip first met his third cousins with whom he shared a great-great-grandmother in Queen Victoria, a 13-year-old Princess Elizabeth. He was then sent to serve in the Mediterranean, where, almost immediately, his skills were to be tested when he found himself immersed in the conflict during Italy's invasion of Greece in October 1940. Courageous and ready to act on his own initiative, he was soon promoted to become one of the youngest lieutenants in the Navy and later saw action during the 1942 invasion of Sicily. Philip finished his war service on HMS Whelp in the Pacific, where he was present at the official Japanese surrender on the USSS Missouri in September 1945, just two weeks after atomic bombs had been dropped on Hiroshima and Nagasaki.
In July 1947 Philip and Princess Elizabeth announced their engagement. Before the official announcement, Philip abandoned his Greek and Danish titles and styles, became a naturalised British subject and adopted his maternal grandparents' surname Mountbatten. Thereafter, Lieutenant Philip Mountbatten was granted the style His Royal Highness and created The Duke of Edinburgh, Earl of Merioneth, and Baron Greenwich by the King, a title which was to become in the decades to come, so symbolic of stability, enterprise and stoic determination to support the Queen.
The approaching royal nuptials between Philip and Princess Elizabeth was a much anticipated event in the grey, rationed world of post-war Britain. Philip wrote to his wife-to-be: 'To have been spared the war and seen victory, to have been given the chance to rest and to re-adjust myself, to have fallen in love completely and unreservedly, makes all one's personal and even the world's troubles seem small and petty.' With chiselled features and blond good looks, he was a charismatic war hero and it is scarcely surprising that the British public responded with a tremendous enthusiasm to the glamour and allure of this fairy tale romance.
Winston Churchill called the wedding 'a flash of colour on the hard road we have to travel', an apt description of an event marked by splendour, pomp and circumstance. On 20 November 1947, millions watched the ceremony, which was the first royal wedding that was filmed by newsreel cameras. The early years of married life were gratifyingly low key and Elizabeth truly enjoyed the life of a naval wife and young mother in Malta where Philip was posted. Unfortunately, a tragedy was to strike as Elizabeth's father, King George VI, who was suffering from failing health, died prematurely of cancer in 1952. His death marked a new chapter in young Elizabeth's life – that of becoming the Queen of England. At her coronation in 1953, the newly-created The Duke of Edinburgh swore that he would be her 'liege man of life and limb', a promise he faithfully kept until his death, nearly 70 years later.
Following Elizabeth's coronation, The Duke of Edinburgh had to find a way of adjusting to his role as consort to the Queen. This meant that, despite of a brilliant naval career, where he reached the rank of commander, Philip had no choice but to leave active military service and come to terms with the fact that his life's work, at the expense of his own career, was to support his wife. As Philip begun to carve out a meaningful role for himself, he was styled a British prince in 1957 and the iconic title of HRH, The Prince Philip, The Duke of Edinburgh was created.
Lean, upright and handsome, Philip threw himself into the life of service to the Queen, United Kingdom, the Commonwealth and its people by championing multitude of causes that were to be his life's long commitment and by attending numerous engagements with style and panache, always cutting a dashing figure in tailcoats, tailored suits or elaborate array of gold-braided uniforms, festooned with sashes and medals. The Duke's no-nonsense character and personality permeated the Royal Household. He swiftly disposed of some of the more arcane practices, such as the powdering of the footmen's wigs, while embracing a more innovative approach to the Queen's role and leading the way in modernising the monarchy. Prince Philip's pioneering character was evident from the very beginning, when as early as in 1953, he had argued eloquently for cameras to be allowed into Westminster Abbey for the coronation. He was the first royal to present a television show, a scientific documentary, and allowed the Man Alive documentary team to accompany him on tour. He also agreed to allow television cameras to make a behind-the-scenes documentary at Balmoral, Royal Family (1969), an approach he may have come to regret, when he became increasingly disillusioned with the genie that had been let out of the bottle and feared that certain television programmes, especially aired in recent years, had done a great deal to debase the reputation and mystique of The Royal Family.
Philip was a man with many passions and over many decades of faithful service he was a patron, president, or member of over 780 organisations, however one of his most important legacies is the creation of The Duke of Edinburgh Award, which he launched in 1956. Probably inspired by his own troubled childhood, the scheme gave young people 'the chance to discover their own abilities for themselves as an introduction to the responsibilities and interests of the grown up world.' The charity's emphasis on volunteering, mentoring and inspired leadership very much mirrored The Duke of Edinburgh's own dedication to public service. This self-improvement program for young people aged 14 to 24, has made life-changing difference to thousands of young people in the UK and the Commonwealth.
Philip was also a man who enjoyed a multitude of hobbies; he was exceptionally well-read, enjoyed painting, design, bird-watching, and he wrote authoritatively about the environment, conservation and technology. However sports, especially equestrian pursuits, were exceptionally close to his heart. He was an avid polo player and carriage driver, winning many awards and competitions. In fact it was Prince Philip who was instrumental in developing the carriage driving and advancing this discipline as an equestrian sport.
Direct and candid, The Duke of Edinburgh's public persona was exemplary albeit at times marked by characteristic frankness, which on occasions, made press headlines. It was however his tireless devotion to his royal duties and to the Queen that earned him worldwide respect. Always, as he put it, 'two steps behind', he embraced the role of loyal and gracious supporter and never let the sacrifices and compromises demanded of him by his royal status, make him waver in his devotion to the Queen and this country. In the words of the Queen, in her golden wedding anniversary speech, he had been to Her Majesty 'quite simply, been my strength and stay all these years'.
HRH, The Prince Philip, The Duke of Edinburgh was the longest serving consort of a reigning British monarch and the longest-lived male member of The British Royal Family. He retired from his royal duties on 2 August 2017, aged 96, having completed 22,219 solo engagements and given 5,493 speeches since 1952. He died on 9 April 2021, leaving a huge void not only in the Queen's life, but also in our own. 
Truefitt & Hill, has had a rare privilege of attending to His Royal Highness for many, many decades, thus continuing our long and proud tradition of Royal service stretching for over two centuries. We will forever be grateful for His Royal Highness's patronage, his extraordinary legacy of service and his unwavering dedication to the United Kingdom, the Commonwealth and its people.
His Royal Highness's patronage was an honour and it will be forever deeply treasured by our company.
Image source Getty Images