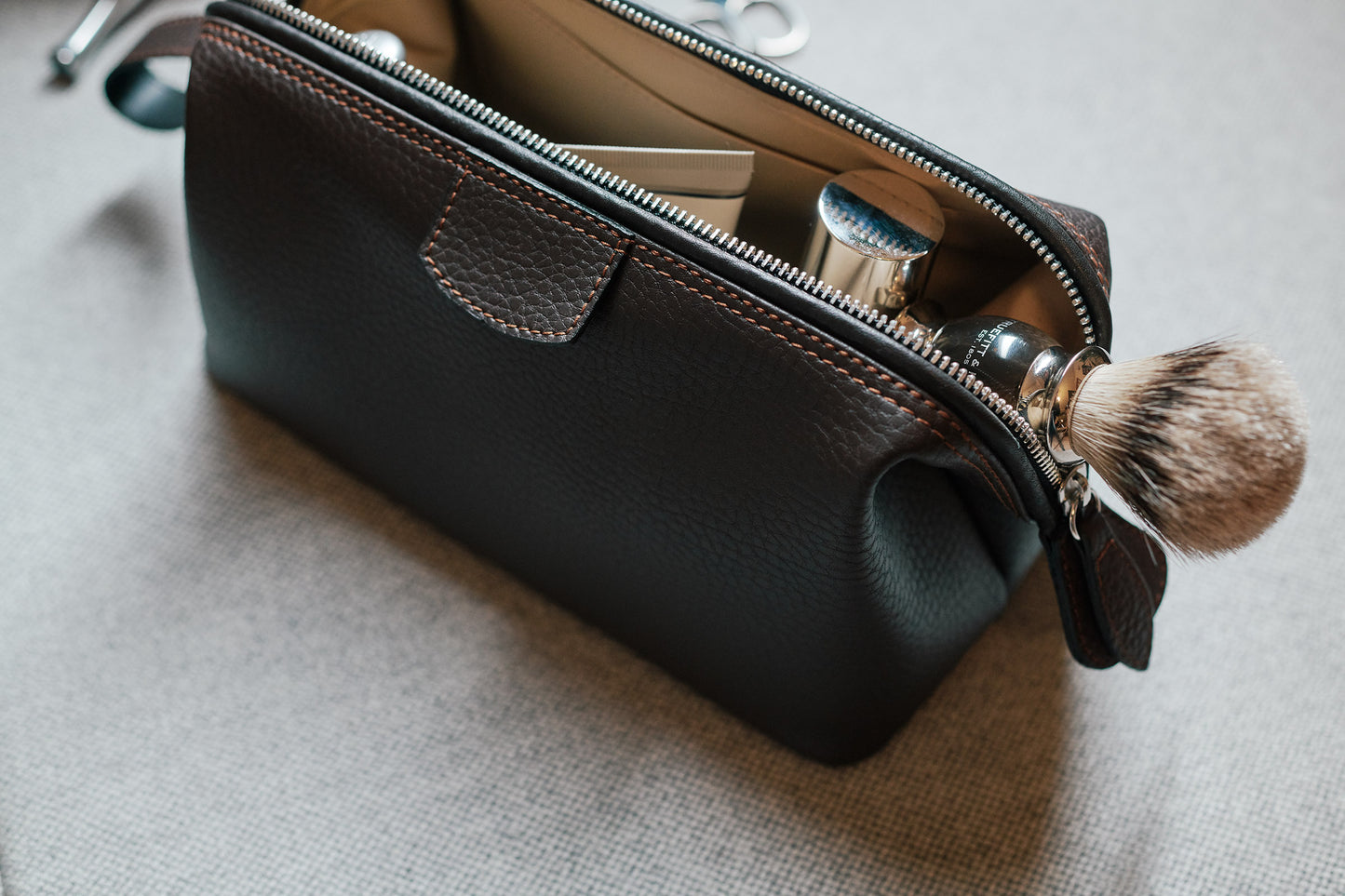 Grooming Kit Essentials For The Modern Man
The days when grooming routines were considered to be essential only in order to keep yourself clean, trimmed and shaved, and grooming products comprised of no more than an eye-wateringly astringent aftershave, are now long gone. Untamed hirsutism is no longer seen as undeniably masculine and poorly maintained nails and eyebrows come across as troublingly self-neglectful. Men no longer accept that routine skin maintenance should consists of no more than some bracing soap and water, and have embraced skincare rituals that nurture and protect the skin.  
It is therefore vital to invest in an essential grooming kit, which can be relied upon, to ensure that you are fully tooled up and ready to confront the depredations of weather, central heating, travel, air pollution and shaving. As long as your skin is glowing and healthy, your nails are neatly trimmed and the worst excesses of hair growth has been controlled, at the very least you will look ruggedly masculine.
PRODUCTS
Hair care
Always use a good quality, mild shampoo such as Truefitt's Frequent Use, Vitamin E or Coconut Shampoos, which are always a perfect choice. Follow up with our Replenishing Conditioner, which provides a quick and easy way to nourish and enhance your hair, ensuring that your locks do not look lank and neglected, nor dry and dishevelled.
Thereafter, if your hair is short, consider a matt paste, such as Truefitt & Hill's Julep Paste, which will keep your hair in check and wash out easily. If your hair is a bit longer, you might opt for a product that will be malleable and easy to apply, such as Truefitt & Hill's Brillantine Pomade which is a perfect choice for achieving a classic, sharp, slick-back look.
Shower and Body
Use a cream or gel in the shower or bath, which produces a rich lather, to cleanse and hydrate your skin. A body scrub, such as Truefitt & Hill's Invigorating Bath & Shower Scrub, should be deployed once or twice a week to buff and exfoliate the skin, which will leave it feeling smooth and refreshed. If you find a soak in the bath a de-stressing and restorative therapy, enhance the experience with Truefitt & Hill's Bath Oil, which combines carefully selected essential oils such as lavender, lemon, rosemary and eucalyptus, to replenish, soothe and moisturise your skin while relaxing your mind and putting your body at ease. Once your skin is soaked and softened, wield a pumice stone to eliminate dry dead skin on your feet as badly maintained feet in summer sandals is just not an acceptable look!
Face
Using a facial cleanser and good moisturiser should be part of your daily regime; a combination of Truefitt & Hill's Daily Facial Cleanser and Advanced Facial Moisturiser will supply diurnal deep cleansing and hydrate the skin. A weekly exfoliating scrub, using a product such as Authentic No.10 Cleansing Scrub, will help to clear your pores, stimulate skin cell renewal and thoroughly cleanse your skin whilst minimising the appearance of any blemishes.
Shaving
Whatever method of shaving you use, you will need a good quality shaving cream or soap and a soothing aftershave balm, which will go a long way towards mitigating any irritation. Truefitt & Hill's Ultimate Comfort Aftershave Balm uses ingredients such as aloe vera to reduce inflammation, while its light formulation will naturally replenish and rehydrate the skin after shaving. If you choose to sport a beard, a Gentleman's Beard Oil or Gentleman's Beard Balm, will soften and enhance even the toughest bristles.
Suncare
Ensure that you always use a broad-spectrum sunscreen which will protect your skin from both UVA and UVB rays, known to penetrate your skin, damaging elastin and causing ageing and wrinkles. Many moisturises contain protection against UV damage, or you could try introducing a light SPF 15 sunblock into your daily routine. 
Fragrance
A signature fragrance is the finishing touch, giving you an alluring and subtle mystique. Choosing all your grooming products from Truefitt & Hill, will allow you to achieve a scent homogeneity across the range, so that the fragrance of your moisturiser does not clash with the scent of your shower gel or aftershave balm. The fragrance layering concept has been used across a number of our ranges and products are available in unique fragrances, such as Apsley, Trafalgar, Grafton, West Indian Limes, Sandalwood and 1805. Alternatively, you might opt for unfragranced grooming products such as our Skin Control product range and then indulge in a generous application of signature cologne. You might opt for a more summery scent of citrus, floral and herbaceous notes during the day, while spicy and woody aromas may be more appropriate for the evenings.
EQUIPMENT
Grooming is a science, and every well maintained man needs the following precision instruments:
Tweezers
Thick eyebrows are perfectly acceptable, however monobrows or undisciplined brow hairs should be tweezed. Wield the tweezers discriminatingly to achieve an even and balanced look that will compliment your face. 
Nasal hair trimmers
Don't pluck nasal hairs as it can lead to ingrown hairs and infections. If your nostrils are sporting unwanted hair growth, trim them using the handy miniature scissors that come in most manicure kits, such as Large Manicure Set from Truefitt & Hill.
Nail clippers
These will ensure that you can keep your nails trimmed and tidy at all times, which is an essential part of being well groomed and well presented.
Razor
Whatever shaving method you choose, you will need a good quality razor – a steel safety razor is a good investment, and will reduce your plastic footprint. If you are going for the more hirsute option, then a beard-trimmer is essential. If you are a traditionalist, who loves the ritual of building up a lather from a pot of saving cream or a block of shaving soap, then invest in a good quality badger brush, such as Truefitt & Hill's Wellington Shaving Brush, which is always a perfect choice.
Finally, it is worth remembering that a stellar grooming kit filled with good quality products, not only will help you to make the most of your daily routine and turn it into a pleasurable experience, but it will also provide you with the confidence and suave needed to ensure that you put your best face forward each and every day.