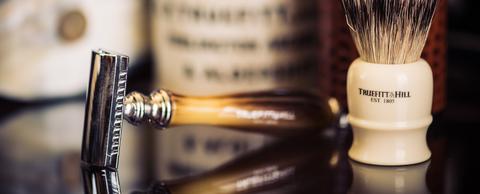 Five Blades we Recommend for a Perfect Wet Shave
We appreciate that it is not always possible for you to book an appointment at one of our barbershops. We also know that most of us would like to have the best shave possible every day and that you would like to recreate, as closely as possible the same phenomenal hot towel wet shave experience at home. In upcoming blog posts we will focus on the different aspects of the perfect hot towel wet shave experience, but for today let's look at the blades for the ever popular double edge razor.
We have listed our five blade recommendations below along with a few details to give you some expert guidance. We suggest that you sample a few different blades before making your choice. We cannot promise that when you use them you will suddenly develop the craftsmanship and skill of one of our master barbers, but at least you will be using the right tools. A good blade will help you to create a wet shaving routine that you will look forward to each day.
1. Feather New Hi Stainless Razor Blade
Among wet shave aficionados around the world the Feather blade is regarded as one of the finest in both senses of the word. Stainless Steel and Platinum coated, the double edged razor blades are made at Feather's Seki and Mino factories in Japan. There is no getting away from the fact that Feather blades are very sharp and thus ideal for those of you with some wet shave experience.
2. Wilkinson Sword DE Razor Blade
A very good blade from a brand with which many of you will be familiar. These double edge razor blades are Stainless Steel and made in Solingen, Germany.  It is not as sharp as the Feather but it will give you a very good shave nonetheless.
3. Jaguar's Orca Blade
Jaguar's Orca blade is also made in Solingen, Germany, so it is fair to say that the city that is informally known as the 'City of Blades' clearly justifies the name. The double edge Orca blades are Stainless Steel, ice tempered, platinum and fluor-carbon coated. They will give you an exceptional close shave.
4. Derby Extra Blade
If you have sensitive skin or you are new to wet shaving, it would be sensible to start with Derby Extra blades. The double edge Extra blades are chromium-ceramic, tungsten and platinum plated. The blades are manufactured in Turkey and are not quite as sharp as the Feather or Wilkinson's Sword. 
5. Gillette 7 O' Clock Sharp Edge
The Double Edge 7 O' Clock Sharp Edge blades are manufactured in St. Petersburg, Russia under license from the Gillette Company. The blades are made from Stainless Steel and are sharp but smoother and more forgiving than the sharpest blades on the market mentioned above.
While it is impossible for us to predict which blade will be the best one for you, we hope that above information will at least help you to choose.  It is certainly worth experimenting with a few different blades before deciding upon your favourite. When you do decide please also consider how you will dispose of your discarded blades safely after use. You could use a blade bin or another secure container.   
We are officially recognised as the world's oldest barbershop and have had the honour of serving the Monarchs of Great Britain throughout nine consecutive reigns. We remain 'By Royal Appointment' and are barbers and Royal Warrant holders to H.R.H. The Duke of Edinburgh. Today we have a comprehensive selection of gentleman's grooming products and barbershop locations around the world.
For appointments please email: appointments@truefittandhill.co.uk
Or call us on: +44 (0)20 7493 2961