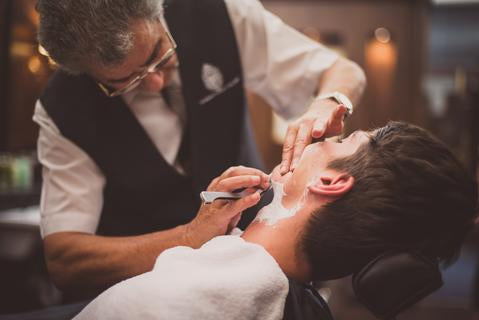 Grooming Tips for Bridegrooms
Your big day is approaching and although, understandably the focus will be on your beautiful bride, you also need to make a great impression and have to consider your own appearance.

Preparation is key, so start planning a few months ahead as to how you will look your best on your wedding day. There will be a lot of photographs taken and you would be wise to ensure that your appearance withstands the scrutiny not only of professional photographers, but also of a plethora of smart phones and video cameras being pointed at you from all angles.

A daunting prospect perhaps, but do not worry – at Truefitt & Hill we have been helping bridegrooms to prepare for their wedding day for over two centuries so you can rest assured that your appearance  will delight your beautiful bride.


Start with a great haircut…
Your wedding day is definitely not the right time to experiment with a new haircut. Choose a classic style that will stand the test of time and liaise with your hairdresser several months in advance so  that he or she can help you plan properly. It is likely that your haircut will need a few days to settle down before your wedding, so  ensure that you book your pre-wedding appointment with this in mind.

 
Do not forget your hands!
Even if manicures are not the type of treatment you would normally indulge in, do book one in preparation for your wedding day. Although your wife will be the focus of attention, your hands will also be on display and will be closely scrutinised and photographed. Take care that your fingernails do not spoil the picture! 


Perfect Skin on the day
To ensure you are looking your very best with a clear and radiant complexion on your big day, make sure your skin routine is in place well in advance of your wedding day. Remember, problem areas can not be fixed overnight. Your regimen should include a deep cleansing at least twice a week, we recommend
Authentic No.10 Cleaning Scrub
, as well as the daily use of a good moisturiser. For this we would suggest the
Ultimate Comfort Advanced Facial Moisturiser
, specifically designed to give great results and to cater for even the most  sensitive skin.
Last but certainly not least, why not leave the final touch to the experts and treat yourself to a facial treatment a week prior to your big day, just click 'here' to make your booking.
 
Clean Shaven?
A good shaving routine is also essential in not only keeping your skin looking its best but also in preventing any rashes or ingrown hairs. Use a badger shaving brush, one of our shaving creams and nourish the skin with aftershave balm once you have finished shaving. For a really superb result use a Pre Shave Oil.


On the big day
At Truefitt & Hill, we encourage our grooms to enjoy the experience of getting ready to walk down the aisle. Why not enlist the support of your best men on this special day and book the whole party in for traditional hot towel wet shaves on the morning of your wedding? At the same time, you should also book a manicure and get your hair professionally washed and styled, ensuring you enter married life putting your best face forward. 


For appointments please email: appointments@truefittandhill.co.uk
Or call us on: +44 (0)20 7493 2961
7th August 2015